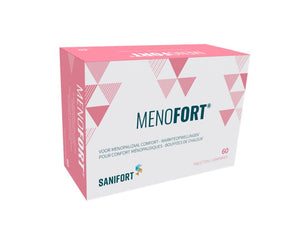 Product image 1

Product image 2
MENOFORT® is a complete formula of carefully selected plant extracts and nutrients that treat various menopausal symptoms in a gentle way and in a single total approach.*
This 4-in-1 action makes MENOFORT® unique!
The principal discomforts during menopause are heat flashes, sweating, bloated feeling, disrupted intestinal flora, vaginal infections, disrupted menstrual cycle, etc.
*Red clover contributes to increased comfort during menopause
HOW TO USE?
1 tablet in the morning and 1 tablet in the evening
FAQ
INTERESTING LINKS
RECOMMENDATIONS
A dietary supplement may not replace a varied and balanced diet or a healthy lifestyle.
Keep out of the reach of young children.
Do not exceed the recommended daily intake.
Hypersensitivity to any of the components of the preparation.
Do not use in the case of: Soya allergy, hormone-dependent disorders or a history thereof (e.g. breast cancer, endometrial cancer), pregnancy and breastfeeding.
ACTIVE COMPONENTS
The soya and black cohosh present in Menofort® provide a supply of phytoestrogens. These are active substances used to treat hot flashes and irritability.
Sage combats sweating at night and has a positive effect on the typical hot flashes due to menopause.
The probiotic mixture promotes good intestinal flora so that the phytoestrogens are better converted into active forms and can therefore function even better.
INGREDIENTS
Raftilose-microbiota mixture 500,10

6

CFU
Red clover dry extract 93.75 mg, standardised at 8% isoflavones
Sage dry extract 50 mg standardised at 2.5% rosmarinic acid
Soya dry extract 43.7 mg standardised at 40% isoflavones
Black cohosh dry extract 40 mg standardised at 2.5% triterpenoid saponins (indeoxyactein)
Silicon dioxide
Vit. E (d-alpha tocopheryl acetate) 14 mg (117.5% RDI*)
*RDI = Recommended Daily Intake
Fillers:
Raftiline-sorbitol
Micro-crystalline cellulose
Lubricant:
Mijn kindje van 4J is bijna constant aan antibiotica owv zeer zwakke luchtwegen. Toen ik via mijn dokter amufort kids kreeg was ik voor de eerste maal 3 weken zonder antibiotica. Ik belde de firma om meer info ivm permanente inname. Ook dit is mogelijk omdat het een natuurlijk middel is.
Els V.S.
Ik heb al 10 jaar last van mijn darmen en probeerde op aanraden van dokters, apothekers, therapeuten, familie,…. Allerhande producten. Toen mijn apotheker in Kessel-Lo Intestifort adviseerde had ik voor de eerste maal in 10 jaar een veel lichter gevoel na 3 weken inname. Het was voor mij iets ongelooflijk na al die jaren. Het eerste middel dat echt een effect had.
Jan V.