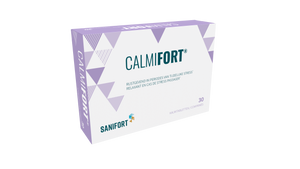 Product image 1

Product image 2

CALMIFORT® is a combination of carefully selected plant extracts and nutrients that, based on scientific research, demonstrate their proper functioning in situations of stress and nervousness as well as tension and mental pressure (e.g. exam stress, stress in the workplace, busy schedule, etc.).*
Other agents using this approach usually also have a paralysing and sleepy side effect. CALMIFORT® is highly recommended in this regard. In addition to its calming and soothing aspect, Calmifort® maintains and even increases alertness thanks to the addition of rhodiola.
Calm, relaxed with greater concentration, focus and alertness!
*Valerian contributes to mental well-being in situations of tension or stress.
HOW TO USE?
1 to 2 tablets per day
FAQ
INTERESTING LINKS
RECOMMENDATIONS
A dietary supplement may not replace a varied and balanced diet or a healthy lifestyle.

Keep out of the reach of young children.

Do not exceed the recommended daily intake.

This dietary supplement is recommended for adults and children over 12 for unwinding during a period of temporary stress.
ACTIVE COMPONENTS
Rhodiola rosea is a plant that helps you become less sensitive to short-term stress. Rhodiola is an adaptogenic plant that gives you extra energy without a stimulating effect.

Valerian and passion flower have important soothing and relaxing properties and are especially recommended in situations of temporary tension and during busy activities, which may or may not have an impact on digestion.

Magnesium relaxes the nerves.

Hawthorn is a natural tranquilliser and reduces temporary nervousness when accompanied by clammy hands and sweating.
INGREDIENTS
Valerian extract (Valeriana officinalis L.) 200 mg standardised at 0.25% valeric acid

Magnesium citrate 200 mg - Rhodiola extract (Rhodiola rosea) 150 mg standardised at 3% rosavin and 1% salidroside

Hawthorn extract (Crataegus monogyna Jacq.) 56 mg standardised at 15% oligomeric procyanidins and 2.3% flavonoids

Passion flower extract (Passiflora incarnata L.) 30 mg standardised at 3.5% flavonoids (expressed as vitexin)

Contains 58 mg magnesium (15% RDI) per daily dose of 2 tablets).
Fillers:
Tricalcium phosphate

Micro-crystalline

Cellulose
Anti-caking agents:
Lubricant:
Coating:
Hydroxypropylmethylcellulose

Talc

Levan

Titanium dioxide

Glycerol

Cochineal
Mijn kindje van 4J is bijna constant aan antibiotica owv zeer zwakke luchtwegen. Toen ik via mijn dokter amufort kids kreeg was ik voor de eerste maal 3 weken zonder antibiotica. Ik belde de firma om meer info ivm permanente inname. Ook dit is mogelijk omdat het een natuurlijk middel is.
Els V.S.
Ik heb al 10 jaar last van mijn darmen en probeerde op aanraden van dokters, apothekers, therapeuten, familie,…. Allerhande producten. Toen mijn apotheker in Kessel-Lo Intestifort adviseerde had ik voor de eerste maal in 10 jaar een veel lichter gevoel na 3 weken inname. Het was voor mij iets ongelooflijk na al die jaren. Het eerste middel dat echt een effect had.
Jan V.