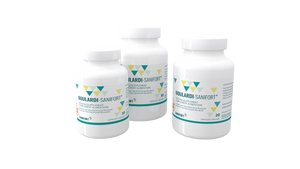 Product image 1
Product image 2

BOULARDI SANIFORT® is recommended to slow intestinal transit in a more natural and gentle way.
This product has many benefits and stands out from the crowd because it is lactose free. High dose, good price! The risk of diarrhoea increases while taking antibiotics and during periods of travel.
HOW TO USE?
1 to 4 capsules per day
FAQ
INTERESTING LINKS
RECOMMENDATIONS
A dietary supplement may not replace a varied and balanced diet or a healthy lifestyle.

Keep out of the reach of young children.

Do not exceed the recommended daily intake.
ACTIVE COMPONENTS
The yeast Saccharomyces boulardii has been used since 1950 as an anti-diarrhoeal agent and is the best documented probiotic with general beneficial effects on the intestines. Boulardi Sanifort® contains 250mg Saccharomyces boulardii or at least 6 billion viable cells at the time of production.
INGREDIENTS
Saccharomyces boulardii 250 mg or at least 6 billion viable cells *




* at the time of production
Filler:
Anti-caking agent:
Lubricant:
Capsule:
Mijn kindje van 4J is bijna constant aan antibiotica owv zeer zwakke luchtwegen. Toen ik via mijn dokter amufort kids kreeg was ik voor de eerste maal 3 weken zonder antibiotica. Ik belde de firma om meer info ivm permanente inname. Ook dit is mogelijk omdat het een natuurlijk middel is.
Els V.S.
Ik heb al 10 jaar last van mijn darmen en probeerde op aanraden van dokters, apothekers, therapeuten, familie,…. Allerhande producten. Toen mijn apotheker in Kessel-Lo Intestifort adviseerde had ik voor de eerste maal in 10 jaar een veel lichter gevoel na 3 weken inname. Het was voor mij iets ongelooflijk na al die jaren. Het eerste middel dat echt een effect had.
Jan V.